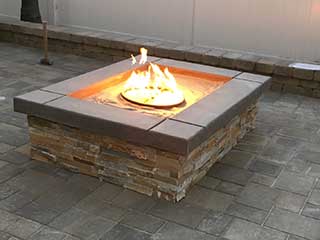 Swift, Professional Work
You have a busy schedule to deal with, so using up a ton of your precious free time on a new project for your yard may seem less than ideal. However, with Tustin Pavers & Hardscapes, you can count on fast service that will be done before you know it while still being sturdy and something that will last. That's because years of experience combines with excellent tools to provide work that's done quickly and effectively as well! You can trust that we'll be there on time, every time, and get right to find the finest solution for your needs. It's why we're known as one of the best in California.
A Company Ready To Assist You
Our professionals are here and happy to help you realize your vision and create the backyard of your dreams! Working with you every step of the way, you'll have a say in the services provided so you'll know exactly what you're getting. The biggest concern of our team is that you're completely in love with the finished project, and that means going above and beyond to ensure that this is the case. Whether the job is something big, or just a small repair, the same amount of attention will be given no matter what.
Driveway Services, BBQ Pits, And More
Whether the walkway or sidewalks around your home could use some attention, or you'd like paver stone edging along your driveway, our experts have got you covered! If you need a new driveway completely, or to expand the one you have, paving can be taken care of quickly and easily for you. Have maintenance that needs done, like getting rid of oil stains? That's no problem for our professionals. You can also get your backyard spruced up to make it an amazing place to spend time with family and friends! From a new BBQ pit, to an outdoor kitchen, it can all be accomplished easily.
Why Put It Off Any Longer?

Highest Quality Materials and Tools

Most Excellent Pricing Around

Years of Strong Experience

Services You Can Trust