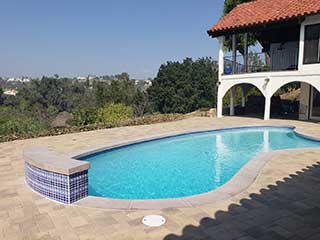 The pool of your Tustin home is a great backyard feature. Pavers are the perfect choice of material for this part of the home; they give you total control over a wide range of design features that you simply can't achieve with other materials. Not only this, but pavers are the safest and the most durable option as well. If you're looking to remodel this part of your backyard, our hardscape paving experts are here to help.
Design The Perfect Pool Area
Pavers give you access to an unparalleled range of different options when deciding on a design. Firstly, you can select from a diverse catalog of materials - everything from flagstones to limestone tiles and concrete or clay bricks, giving you plenty of scope for picking out the perfect material and landscape design for your home. In addition to this, you can choose a color to suit your exterior decor, whether that's cool gray bricks or a warm honey stone (or even a combination). Finally, you can also pick out a pattern, from simple jack-on-jack to the more complex pinwheels and herringbones.
Safe When Wet
Beyond looking great, pavers are also a fine choice for poolside use because they provide excellent grip even when they're wet. Your family and guests will be at little risk from slipping on this surface, and pavers also provide fast natural drainage to remove standing water. The grouts separating each brick or tile allow for this.
Easy To Care For
Pavers look great when they're first installed, and are built to last a lifetime. Like all materials though, they will eventually be chipped or cracked after years of use. If your pool area was made from concrete or wood, this would require more expensive and time-consuming efforts effort to fix. With pavers, though, it's a simple case of levering out the damaged bricks and replacing them with new ones. Simple, quick and easy - pavers give you long-lasting satisfaction.
Design Your Perfect Pool Deck Today
Don't wait to begin designing the ideal pool deck for your home. To find out how you can get started today, simply get in touch with Tustin Pavers & Hardscapes and have our experts help you create the look you're going for.
Our team can also take care of:

Fire Pit

Landscape

Rumblestone

Edgers Edging