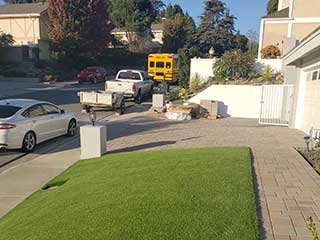 Removing And Replacing Old Pavers
If you have pavers in your driveway that are damaged beyond repair, it is no problem because our team can replace those for you. You can rely on us to get the right match for the rest of your driveway, and replace what needs to be replaced quickly and smoothly so your home can stay looking in tip top shape. Even if you have pavers you just want removed from your home and taken away forever, our team can do that for you too!
Efficient, Lasting Edging
Driveway pavers are sought after by many due to their aesthetic appeal. Having an edging around the perimeter of your driveway can be very beneficial in the long run because it will help keep all of your pavers in place. This ensures they don't shift or pull away from each other over time, keeping that visual appeal you've loved since the beginning. A proper edging also allows for healthy growth of grass and plants around the area, upping the visual pleasure even more!
Quick And Easy Installation
A great advantage of getting driveway pavers installed is that it is quick and easy. Our team will be in and out before you know it and, unlike concrete, pavers do not need time to cure so you can start using your new driveway immediately afterwards! They can also be installed in most weather conditions unlike some other materials, making them even more of a great choice to add to your home. With so many great advantages, it's no wonder people love this option so much.
Get Ahold Of Us Now
There is never a bad time to contact our company to help assist with your needs. Tustin Pavers & Hardscapes is proud to offer great customer service and some of the best products around to help make your home stand out. Our company is always here and ready to help you so don't hesitate and contact our professionals today!

But wait, there's more! We also offer:

Decorative Rock Outdoor Living

Custom Backyard BBQ Grills

Paver & Flagstone Patio

Firepit With Pavers