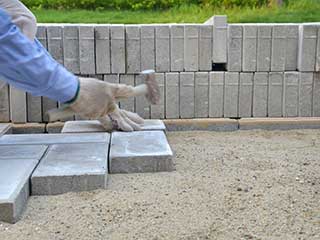 There are many benefits to be gained from pavers - they can stand up to heavy foot or vehicle traffic without wearing down, they let water drain easily and can remain strong and stable all year round. However, there's much more to this than simply laying bricks down. In order to ensure you get the full benefit of a paved driveway, patio or sidewalk, it's essential that the correct installation process is followed.
Preparing The Ground
The first task is to excavate the earth, creating space for your new installation. This requires clearing away all debris, including rocks, roots and remnants of old surfacing materials. Once the earth is clear and dug to the correct depth, it will be compacted and leveled to provide a flat and even surface. Of course, the type of landscape feature you're looking to achieve can affect this part, as certain structures, like pillars, fire pits, and various water features, may require different ground preparations.
Laying Foundations For Pavers
Your paver bricks will sit on several layers of material that creates optimum stability and ensures proper drainage. The first layer consists of anti-weed matting, on top of which several inches of gravel will be laid. Heavy-usage areas like driveways will require about 7" of gravel, fully compacted, while areas such as backyard patios will require about half as much. The final layer is about an inch of sand, which is carefully flattened to create the perfect base for your pavers.
Installing Your Pavers
Each brick will be carefully cut to size and installed in the correct place. Inevitably, some bricks will need to be trimmed either by hand or with a grinder, so that they fit in corners and edges neatly. Aesthetics are very important to ensure quality landscaping efforts, so this part requires precision. Pavers will be left with a small gap of about half an inch between them, which is then filled up with polymeric joint sand. This ensures their structural integrity, and helps to prevent or at least delay future repairs.
Finishing The Job
To solidify your pavers once they're in place, the polymeric joint sand will be moistened with a hose and left to dry and coalesce. A concrete border can also be fitted to provide more rigidity. In addition to that, sealant will be applied across the entire surface of your pavers, to truly ensure that the structure holds together like a solid material. If the pavers begin to drift apart after a while, it may spoil the look of the landscape and repairs will be required. That's why such careful and meticulous installation becomes more than worth it in the long run.
Find Out More
Tustin Pavers & Hardscapes offers expert installation of custom paver landscape designs. If you'd like to learn more about how we can improve your property's front or backyard, give us a call and schedule a consultation.
We also offer the following:

Backyard

Walls & Pillars

Stone Paver Installation

Outdoor Irrigation & Lighting