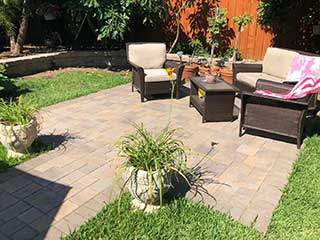 It's no surprise that pavers are one of the most popular landscaping materials for backyard patios. Homeowners understand that the wide range of design choices they'll have access to lets them create the perfect outdoor space. However, pavers are more than just a good-looking surface building material; they offer a whole host of other benefits, too, making them a very sensible choice for any property.
Create an Outdoor Focal Point
By choosing pavers, rather than stamped concrete or other single structure materials like asphalt or wood, you open up a whole world of design options. You can choose from different types of cobbles, bricks or flagstone, or dozens of other paver shapes and types. Then you can decide on the best color - maybe a neutral slate gray, or a warm honey-colored shade? Finally, these bricks can be arranged in any number of designs, from a simple jack-on-jack pattern to a more complex herringbone or pinwheel templates. This means your new backyard patio will be more than just an outdoor space - it'll be a genuine landscape design feature of your home.
Easy To Take Care Of
Unlike other materials such as wood, pavers only require very basic maintenance. It's rare that they'll need more than the occasional cleaning and an annual application of sealant to protect them against UV damage. If any brick gets damaged, it's also very straightforward to remove it and insert a new paver in its place, unlike stamped concrete or asphalt, which can be hard to repair.
Safe To Use All Year Round
You may picture using your patio on sunny weekends or lazy summer evenings, but there will certainly be times when the weather isn't quite as hospitable. Rain-soaked wooden or concrete patios can be very dangerous as they become very slippery. However, pavers always provide excellent grip underfoot. They're also able to drain water quickly, so you won't have puddles forming on your patio for a long while after the rain has stopped.
Find Your Perfect Patio Design
Why wait to start designing the ideal outside space? The expert team at Tustin Pavers & Hardscapes, based in Tustin, is more than ready to help you get started. Get in touch with us today to discuss all the possible backyard patio design options.
Count on our team for:

Retaining Walls

Custom Stone Firepits

Retaining Walls & Pillars

Driveway Paver Installation